Welcome to the Alliance4Wind website !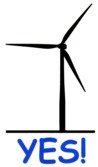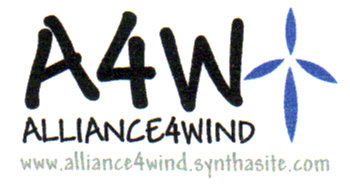 Alliance4Wind -
Renewable Energy Solutions campaigning since 2006
Site updated - 5th November 2019 Website powered by renewable energy
UK electricity mix 2nd quarter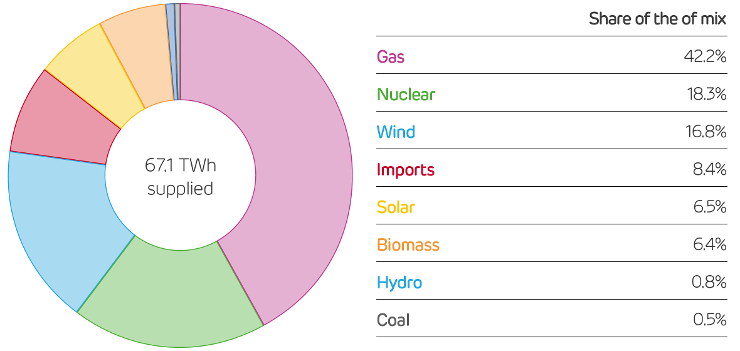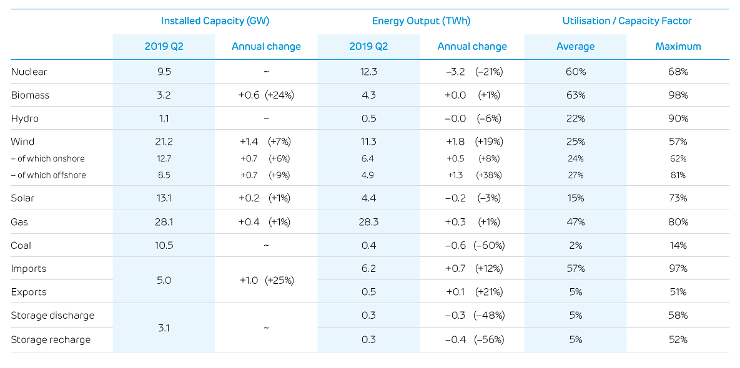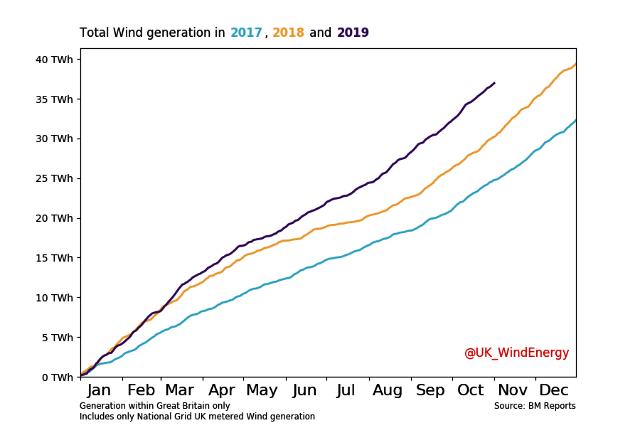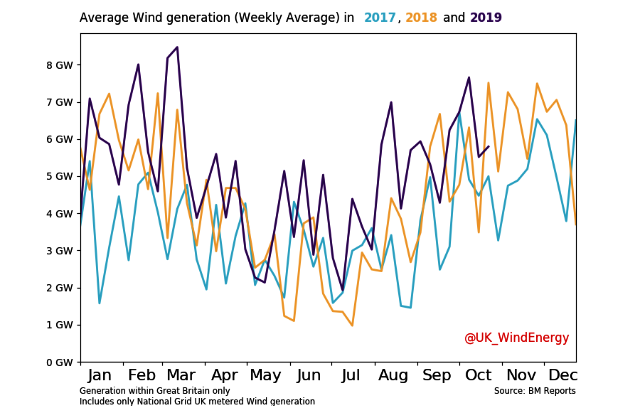 UK generation figures for 2nd Quarter 2019
UK wind output 2018 (Terrawatt hours TWh)
Onshore Offshore
1st Quarter 9.647 7.972
2nd quarter 5.527 4.757
3rd quarter 5.620 4.979
4th quarter 9.240 8.992
30.4TWh 26.7TWh
Total generation for 2018 was 57.1 TWh
UK wind energy installed capacity as of 9th June 2019...
Onshore - number of turbines 7,853, installed capacity 13.038GW
Offshore - number of turbines 2,016, installed capacity 8.483GW
Wind power UK - Total installed capacity 21.521GW
Energy and climate change Public Attitude Tracker -
Wave 27 2018 Renewable Energy
Eight in ten people (80%) supported renewable energy in September 2018. The level of support for renewables has remained fairly stable in recent years, though the current is below the peak of 85% in March 2018
Most of the public continue to support each of the range of renewable energy sources: Solar (83%); onshore wind (76%); offshore wind (79%); wave and tidal (77%); and biomass (86%)
*** Latest News ***
Wind farms across the UK in 2018 generated 57.1 TWh...
Trio of new wind energy records in December 2016...
New records set in best ever year for British
wind energy generation...
New Government poll shows increase in support...
for onshore wind energy...
Record breaking January for wind energy...
Official figures show outstanding October for wind energy...
Fossil fuels should be phased out by 2100 says IPCC...
Wind power steps up when nuclear and gas go offline...
Wind power most popular source of energy in the UK...
World must end dirty fuel use - UN...
RSPB Scotland calls for urgent action on climate change...
New wind energy record for February...
£310m invested in UK wind turbines...
See news page
Alliance4Wind is an environmental pro wind, proactive campaign group that supports wind farm applications across the UK and was founded in 2006. We believe that when members of the public are given an opportunity and provided with substantiated and factually correct information, the vast majority are in favour of wind power.
We believe that wind power, both on and offshore must and will play a key role in the energy mix, along with other renewables, decentralised energy and energy efficiency
Wind power is the most developed of all of the renewables, it is also the most easily implemented and the most cost effective. Wind power is also able to deliver truly renewable and sustainable energy on a large scale. The UK has 40% of the European resource and on average our wind farms are twice as efficient as those in Europe, we have the potential to become a world class leader in wind farm technology. Despite this we are falling shamefully behind other countries when it comes to exploiting the power of the wind,
A recently published UN report on man-made climate change called for a trebling of the planet's renewable energy sources such as solar and wind power. The report argued that the trend of increased carbon emissions can only be reversed if a "massive shift" is energy use is made.
The UN report of November 2014 re-states many familiar positions:
Warming is "unequivocal" and the human influence on climate is clear.
Since the 1950's, the observed changes are unprecedented over decades to millennia
The period from 1983 to 2012, it says, was likely the warmest 30 year period over the last 1,400 years
Warming impacts are already being seen around the globe, in the acidification of the oceans, the melting of artic ice and poorer crop yields in many parts.
Without concentrated action on carbon, temperatures will increase over the coming decades and could be almost 5C above pre-industrial levels by the end of the century.
Countries will need to adapt rapidly, but almost all scenarios see near zero emissions by 2100.
The UK has a commitment to international legally-binding carbon emission and renewable energy targets and these must be taken seriously.