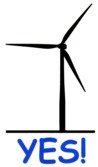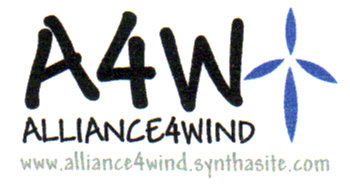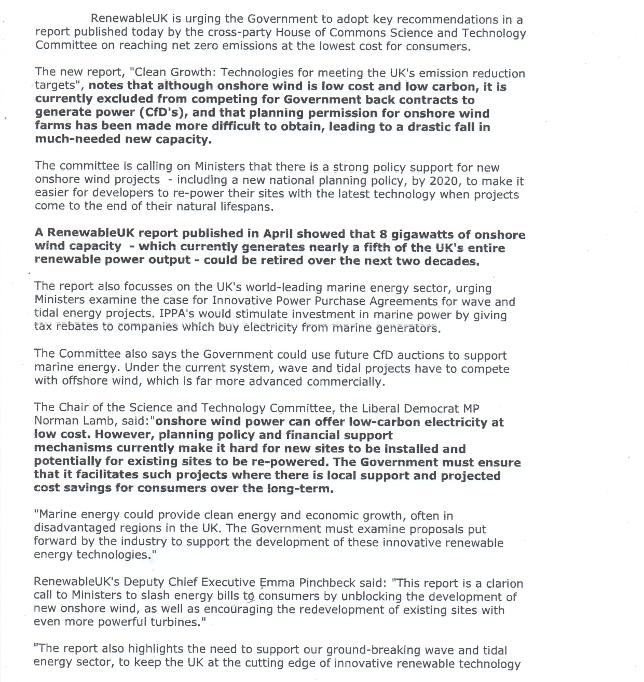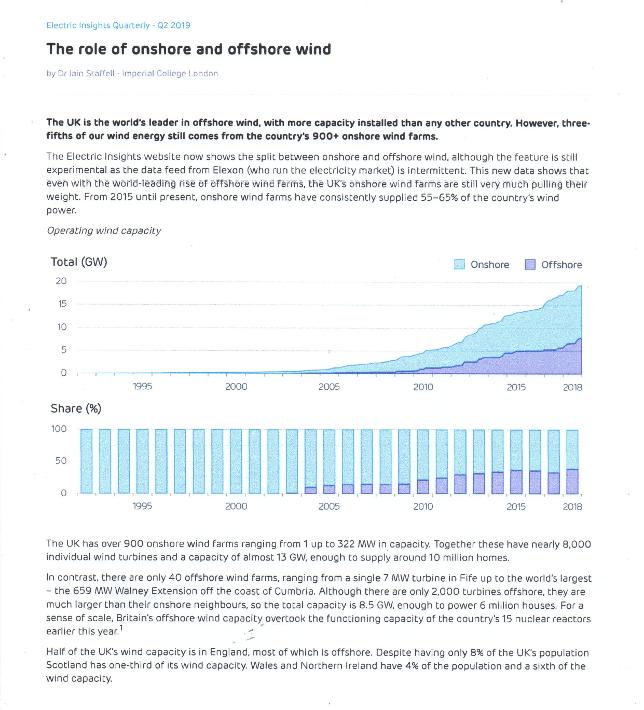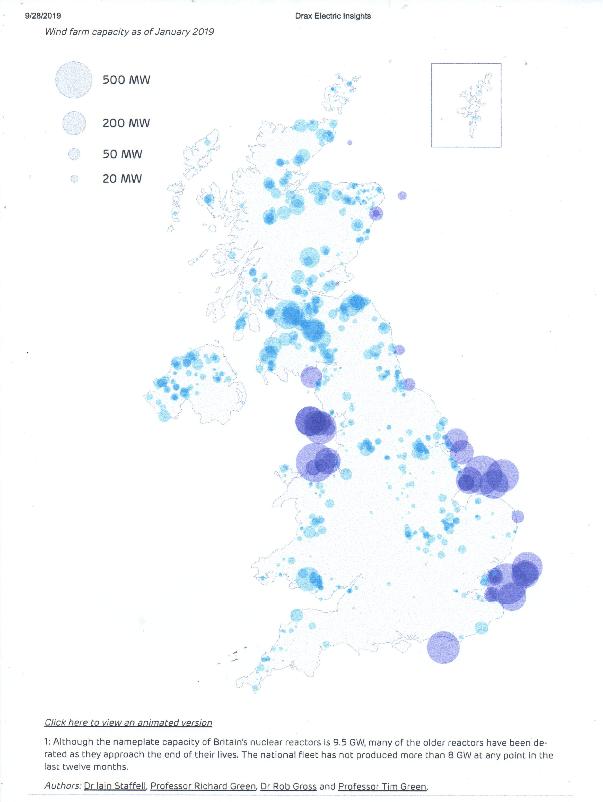 Trio of new wind energy records set in
December 2016 3rd January 2017
New figures from national Grid showed that wind power performed strongly during Christmas week, fresh half-hourly, daily and weekly records were set on 23rd, 24th and 25th December.
Wind power supplied a new high of 41% of the UK's electricity needs in a half-hour period on Christmas Day, smashing the previous record of 34%. During this period, 47% of the UK's electricity came from renewable sources.
A new daily record of 32% of UK electricity was generated by wind on Christmas Day, beating the previous high of 24%. Overall renewables met 42% of demand on 25th December 2016.
20% of UK electricity was generated by wind in the week ending on 25th December, exceeding the previous 19% record. Renewables provided 28% of total generation in the new record week.
RenewableUK's Deputy Chief Executive Maf Smith said: "The growth of wind energy across the UK over the past 25 years is a great success story which we can all be proud of, and it's especially heartening to see that it was wind that helped to keep the Christmas lights on throughout the festive season."
Renewables are now a mainstream provider of electricity, delivering low cost, reliable power to consumers, not just at Christmas but the whole year round."
Source RenewableUK
--------------------------------------------------------------------------------
New records set in best year ever for British wind energy generation 5th January 2016
RenewableUK is highlighting new official statistics from National Grid which show that 2015 was a record year for wind energy generation, with onshore and offshore wind farms supplying their largest ever amounts of clean electricity for Britain's homes, factories and offices. Wind set new weekly, monthly, quarterly and annual generation records.
11% of the UK's electricity was generated by wind last year - up from 9.5% in 2014
Wind provided enough electricity to meet the annual needs of more than 8.25 million homes - more than 30% of UK households - up from 6.7 million homes last year.
December 2015 saw a fresh monthly record set, with wind supplying 17% of Britain's electricity demand at a time when it is needed most. The previous monthly record of 14% was set in January 2015 - another cold period of the year.
A new weekly record was also set in December, with wind providing 20% of the nation's needs in the last week of the month - Christmas week - up from 19% in the second week of November.
Wind also broke the quarterly generation record in the three month period from October to December 2015, with 13% of the nation's electricity demand met by wind -beating the previous 12% high in the first quarter of 2015.
RenewableUK's Director of Policy Dr Gordon Edge said: "This is a great way to start the new year- the wind industry should be proud that it has shattered weekly, monthly, quarterly and annual generation records in 2005. This re-writes the record books. We've had a bumper harvest thanks to increased deployment and superb wind speeds.
"It also demonstrates why the Government should continue to support wind energy, as we are delivering on our commitment to keep Britain powered up. We can continue to increase the proportion of the nation's electricity which we provide and move away from fossil fuels to clean sources of power.
Source RenewableUK
-------------------------------------------------------------------------------
New Government poll shows increase in support for onshore wind energy February 3rd 2015
A new survey released today by the Department of Energy and Climate Change ( DECC) shows that support for onshore wind has increased to 68% of the public, while total opposition fell to a record low of 10%
Support for offshore wind also remained rock solid at 74%. There was an increase in support for Britain's wave and tidal energy industry, which went up to 74%
Public support for hydraulic fracturing, or "fracking" for shale gas fell from 26% to 24%
RenewableUK's Director of Policy, Dr Gordon Edge, said: "It is great to see public support for onshore wind is increasing, with more than two-thirds of people consistently saying they want Britain to make use of it, and that support for offshore wind and wave & tidal energy remains even higher.
That's why it is so hard to understand why the Conservative Party is turning its back on onshore wind, threatening to kill off the industry if it wins the next election. Independent polls show that David Cameron is totally wrong to claim that people are "fed up with" onshore wind - they show the reverse is actually true, and that being anti-wind is a net vote loser.
We hope that as manifestos are being written, the Conservatives will see how misguided it would be to oppose such a popular technology such as onshore wind,"
Source RenewableUK
--------------------------------------------------------------------------------
Record breaking January for wind energy
February 2nd 2015
New official figures from National Grid for January show that wind energy broke new records for weekly, monthly and half hourly generation, highlighting the central role wind now plays in our energy mix.
January was the most productive month ever for wind energy, providing 14% of Britain's electricity (4.13 terawatt hours) - enough to power the equivalent of 8.7 million UK homes. The weekly record was also broken in January with 1,119 gigawatt hours generated and the half-hourly record was exceeded on 2nd January, when wind supplied 31% of Britain's electricity demand.
The news came as overall UK wind capacity ( onshore and offshore) topped 12 gigawatts for the first time, a milestone for the country - enough to supply nearly 7 million households annually.
RenewableUK's Director of External Affairs, Jennifer Webber said: "The past few months have seen significantly high levels of generation for wind energy and January was no exception. It's great to see wind making such a positive contribution to Britain's clean energy needs at a time of year when we most need it, and this can only continue with greater capacity coming online - reaching 12 gigawatts is an achievement which the industry and the nation can be proud of. But if we are to secure a supply of clean energy for the long term, we need all the mainstream political parties to support the wind industry onshore and offshore in the General Election and beyond."
Source RenewableUK
--------------------------------------------------------------------------------
Official figures show outstanding October for
wind energy November 5th 2014
New figures from the National Grid for October show that wind power smashed more energy generation records, contributing even more to the UK's clean electricity mix.
Wind energy hit a record high providing a 24% daily share of the UK's electricity needs on the 20th October, beating the previous record of 22% set in August. Wind energy's share of the monthly mix was also 12.3%, which easily beat last October's share of 8%, and comes very close to the December record of 13%.
The new peak "half hour" record was also repeatedly broken. At the start of October, the record high was 7,920 megawatts (MW). This was broken over a number of days and now stands at an astonishing high of 8,1000MW, enough to power 17 million homes at the time of generation.
In addition, the official statistics show that wind power generated more than nuclear for 11 full days over October, with the longest period being between the 17th and 24th.
RenewableUK's Director of External Affairs, Jennifer Webber, said: "These figures shine a light on the full extent of winds powerful performance over October, to beat nuclear for seven days straight and 11 days overall in the month is unprecedented. We saw August set new records for generation and October has followed hot on its heels."
Source RenewableUK
-----------------------------------------------------------------------------------------------
Fossil fuels should be "phased out by 2100" says IPCC
November 2nd 2014
The unrestricted use of fossil fuels should be phased out by 2100, if the world is to avoid dangerous climate change, a UN-backed expert panel says.
The Intergovernmental Panel on Climate Change ( IPCC) says in a stark report that most of the world's electricity can - and must - be produced from low carbon sources by 2050.
If not, the world faces "severe, pervasive and irreversible" damage.
The UN said inaction would cost "much more" than taking the necessary action.
"Science has spoken," Secretary-General Ban Ki-moon said. "There is no ambiguity in their message. Leaders must act. Time is not on our side."
The IPCC Synthesis Report was published on Sunday in Copenhagen, after a week of intense debate between scientists and government officials.
"There is a myth that climate action will cost heavily," said Mr Ban, but inaction will cost much more."
"We have to first lower the temperature, as you will do with your children, that is what we are doing, that requires some massive, urgent and immediate action."
The US Secretary od State, John Kerry, described the report as "another canary in the coal mine."
"Those who choose to dispute or ignore the science so clearly laid out in this report do so at great risk for all of us, for our kids and our grandkids," Mr Kerry said in a statement.
The report said that reducing emissions is crucial is global warming is to be limited to 2C - a target acknowledged in 2009 as the threshold of dangerous climate change.
For electricity production, this would men a rapid move away from coal and into renewables and other low carbon forms including nuclear.
The report suggests renewables will have to grow from their current 30% share to 80% of the power sector by 2050.
In the longer term the report states "fossil fuel power generation without CCS is phased out almost entirely by 2100.
CCS refers to "carbon capture and storage" technology, which could help limit emissions but is proving slow to develop.
Three previous reports from the IPCC, issued over the past 13 months, have outlined the causes, the impacts and the potential solutions to climate change.
The synthesis boils these three into one, with the intention of informing politicians engaged in attempts to deliver a new global treaty on climate change by the end of 2015.
It restates many familiar positions:
Warming is "unequivocal" and human influence on climate is clear.
Since the 1950's the observed changes are unprecedented over decades to millennia.
The period from 183 to 2012, it says was likely the warmest 30 year period of the last 1,400 years
Warming impacts are already being seen around the globe, in the acidification of the oceans, the melting of artic ice and poorer crop yields in many parts.
Without concentrated action on carbon, temperatures will increase over the coming decades and could be almost 5C above pre-industrial levels by the end of this century.
Countries will need to adapt rapidly, but almost all scenarios see near zero emissions by 2100
Source BBC - Science and environment.
--------------------------------------------------------------------------------------------------------
Wind power steps up when nuclear and gas go offline
October 20th 2014
Strong winds over the weekend contributed significantly to the UK's electricity supply as nuclear reactors remained offline and a large gas plant was suddenly hit by fire.
Wind power set a new record on Sunday by providing 24% of the UK's electricity supply for the entire day. The previous record stood at 22% of total generation in August this year.
Wind's consistently strong performance saw it out perform nuclear power from Friday evening throughout the whole weekend and into Monday morning. This also led to a number of coal plants being taken offline as they were surplus to requirements.
Wind power set a new record of generating 7,998 megawatts( MW) over a half hour period at midday on Saturday once local turbines are factored in, according to National Grid statistics. This is the equivalent of powering 17 million homes, based on average consumption in October.
A sudden drop off in gas power was caused by a fire at Didcot B power station, which has a capacity of up to 1,360MW, equivalent to the needs of a million homes. There are also four nuclear plants ( nine reactors) currently offline due to unplanned outrages and refuelling , which has removed 5,303MW of generating capacity from the system.
RenewableUK's Director of External Affairs, Jennifer Webber said: "This year has seen successive new records for wind generation and this latest evidence shows it's more than capable of stepping in when traditional sources of generation go offline without warning. As we can expect more of these outages in the future, it's reassuring to know that we have wind filling the energy gap."
"Wind power is often used as a convenient whipping boy by political opponents and vested interests, all the while, it's been quietly powering millions of homes across the UK and providing a robust response to its vocal detractors."
Source RenewableUK
--------------------------------------------------------------------------------------------------------
Wind power most popular source of energy in UK
June 10th 2014
Half of respondents to national survey would welcome a new wind farm within five miles of their home
Wind power is the most popular source of energy in the UK according to an exclusive survey of attitudes towards the energy market carried out on behalf of the Guardian
A study of more than 2,000 people across incomes and political allegiances found that wind farms would be the most welcomed form of power source, as plans are made to develop new energy capacity in the UK. Almost half of respondents ( 48%) said an onshore wind farm would receive positive reception if it was developed within five miles of their home.
By contrast, only a fifth could say the same for a new coal powered station, and just 27% said a new nuclear power station would be welcomed in their area. Fracking garnered the least support:19% of respondents said development of this new technology would receive a local positive reception.
Support for wind power was high among supporters of all parties, though enthusiasm was lowest among those who identified themselves as Conservative (39%, compared with 56% among Labour voters and 45% for those who said they were aligned with UKIP).
The survey results come as government data revealed there had been a sharp rise in the number of onshore wind farm applications being rejected. Rejections across the UK jumped from 25-29% in 2009-2012 to 41% in 2013. Communities secretary Eric Pickles has told planners to give greater weight to local concerns over wind farm applications, claiming "current planning decisions on onshore wind are not always reflecting a locally-led planning system."
The Conservative party has pledged to drop subsidies for new onshore wind turbines if elected with an overall majority in 2015. And despite evidence that support is generally widespread, Pickles has taken 35 wind power planning appeals out of the hands of the planning inspectorate since last June, refusing eight and approving two so far, and opening up his party up to criticism of "heavy- handed intervention."
Source The Guardian June 2014
------------------------------------------------------------------------------------------
World must end dirty fuel use -UN April 13th 2014
A long- awaited UN report on how to curb climate change says the world must move rapidly away from carbon-intensive fuels
There must be a "massive shift" to renewable energy, says the 33-page study release in Berlin.
It has been finalised after a week of negotiations between scientists and government officials.
The report is the work of the UN's Intergovernmental Panel on Climate Change (IPCC), which was set up to provide a clear scientific view on climate change and its impacts.
The Summary for Policymakers on mitigation paints a picture of a world with carbon emissions rising rapidly.
About half of all the carbon that humans have pumped into the atmosphere since 1750 has been emitted in the last 40 years.
Rates have been rising fast since 2000, despite the global economic crash.
The report points to an increased use of coal in the decade from the turn of the millennium, "reversing the long standing trend of decarbonisation of the worlds energy supply."
Driven by a global increase in population and economic activity, global surface temperature increases will be between 3.7C and 4.8C in 2100 if no new action is taken.
That is way above the 2 degree level, regarded as the point beyond which dangerous impacts of climate change would be felt.
However, the scientists involved in the report say this situation can be turned around.
"It needs a big change in the energy sector, that is undoubtedly true," said Prof Jim Skea, vice-chair of working group 3. He added, "It is not a simple task, to be sure of staying below 2 degrees, the amount of carbon in the air needs to be around 450 parts per million by 2100. To get there, emissions in 2050 need to be 40-70% lower than they were in 2010."
The IPCC report says that renewables are a critical part of the pathway.
Since the last report in 2007, scientists say that renewable energy has come on leaps and bounds.
In 2012, renewables accounted for just over half of the new electricity generation added around the world.
The scientists stress that renewables are becoming economically competitive with fossil fuels and also offer a range of other benefits, including clean air and energy security.
"It certainly is the end of carbon intensive fossil fuels that's for sure" said Jennifer Morgan from the World Resources Institute, who was a review editor on one of the chapters of the IPCC report.
"There needs to be a massive shift away from fossil fuels and investment needs to shift 100% clean as fast as possible."
Source BBC News Science and Environment
------------------------------------------------------------------------------------------
RSPB Scotland calls for urgent action
on climate change March 31st 2014
RSPB Scotland has called for a redoubling of efforts to tackle climate change after a UN report suggested it was having a major impact on some iconic species and habitats.
The conservation charity said coastal habitats and wildlife were already suffering from rising sea levels, extreme weather and warming oceans.
It warned birds such as kittiwakes and dotterels were particularly vulnerable.
The RSPB urged urgent government action to cut greenhouse gas emissions.
The call followed an update by the Intergovernmental Panel on Climate Change ( IPCC) on the scale of the threat globally.
RSPB Scotland said its own research indicated that climate change was behind a steep decline in the number of kittiwakes breeding in Scotland and seabird counts on some RSPB sites around Orkney pointed to an 87% reduction in kittiwake numbers since 2000
The research suggested warmer sea temperatures were affecting the abundance and quality of their main source of food - sand eels - raising fears the species could become extinct in some areas unless urgent action was taken.
Climate change was also said to be having an impact further inland on species such as the dotterel, a bird that breeds only on the highest mountain tops of Scotland.
Jim Densham, senior climate policy officer at RSPB Scotland, said:"The IPCC report powerfully backs up what we know about the changes that are already affecting Scotland's natural heritage."
He added,"The report is a wake-up call for all governments, including our own, to redouble efforts to halt climate change by cutting greenhouse emissions in all sectors of our economy and society."
Source BBC News Scotland.
------------------------------------------------------------------------------------------
£310m invested in UK wind farms March 25th 2014
Manufacturing giant Siemens and the UK's Associated British Ports are to invest a total of £310m in UK wind turbine factories, creating 1,000 jobs
Siemens will put up to £160m - doubling its previous plans to invest £80m in wind turbine production in the UK.
The investment is being made across two locations - the Green Port project in Hull, and a second manufacturing facility in Paull in East Yorkshire.
Siemens said the UK "recognises the potential for offshore wind energy."
"We invest in markets with reliable conditions that can ensure that factories can work to capacity," said Micheal Suess, head of Siemens energy sector.
"The British energy policy creates creates a favourable framework for the expansion of offshore wind energy. In particular, it recognises the potential of offshore wind energy within the overall portfolio of energy production."
Associated British Ports, which is collaborating with Siemens on the Green Port development in Hull, is investing £150m in the project.
The combined investment of £310m is expected to create up to 1,000 jobs directly - 300 more than previously announced - plus additional jobs in construction and through the supply chain.
The Green Port facility will construct, assemble and service offshore wind turbines, while the second Siemens site in Paull will be used to manufacture the 75-metre rotor blades.
Energy Secretary Ed Davey said the investment demonstrated the UK was "backing enterprise with better infrastructure and lower taxes."
"This deal is excellent news for the people of Hull and the Humber, the UK, the wind industry and our energy security," he said.
Source BBC News Business
-----------------------------------------------------------------------------------------
Wind energy record shows renewables
are vital to UK March 4th 2014
Wind energy generated a new record monthly high of 11% of the UK's electricity in February, producing 2,750,860MWh ( megawatt hours) - enough to power more than six and a half million homes.
Official National Grid figures show that wind is playing an increasingly important role in our electricity mix - the previous monthly record ( 10% of the UK's electricity from wind) was set in December , which broke a record set in October.
A number of other records have been set in the strong winds of the past few months, on 31st January, wind generated an all-time half-hour high of 6,215MW ( megawatts), and on 23rd February wind supplied a daily record of 17% of the UK electricity demand.
RenewableUK's Deputy Chief Executive Maf Smith said:"The need to develop a secure , home-grown supply of electricity in a cost effective way is at the forefront of peoples minds right now, so it is good to see wind energy consistently ticking all the right boxes, month after month."
He continued "To meet energy needs of homes and businesses throughout the UK, it is vital that we keep on harnessing one of Britain's natural resources. This makes us less reliant on expensive imported energy from volatile international markets."
Source RenewableUK press release
------------------------------------------------------------------------------------------
Record breaking month for wind energy - Jan 2nd 2014
December 2013 was a record-breaking period for wind power in the UK, with more electricity generated from wind than in any other month. A slew of other records were shattered too, including the amount of electricity generated in a week and the percentage of electricity generated in a single month compared to other forms of energy generation, which was higher than ever before.
During December, a total of 2,841,080 megawatt hours (MWh) of electricity were generated by wind power for the National Grid - enough to power more than 5.7 million British homes - at a time of the year which traditionally sees a high demand for electricity. Overall, wind power supplied 10% of Britain's total electricity demand for homes, business and factories.
Over the course of one week ( starting on Monday 16th December), wind generated a record 783,886 MWh - the highest ever for a seven day period - providing 13% of Britain's total electricity needs that week.
The Saturday before Christmas ( 21st December), one of the busiest shopping days of the year, saw a record daily amount of electricity produced from wind with 132,812 MWh generated, 17% of the nations total electricity demand that day.
Source RenewableUK
------------------------------------------------------------------------------------------
Major offshore wind industrial project
gets the go-ahead Dec 18th 2013
RenewableUK says today's government announcement granting final planning permission for a huge industrial base for the offshore wind sector on the east coast of England is a significant step forward which could lead to the creation of thousands of jobs.
The £450 million project, Able Marine Energy Park, which covers nearly 800 acres of the south bank of the Humber, has the potential to create up to 4000 high- quality jobs supplying components for offshore wind turbines, as well as supplying an assembly and installation base for North Sea projects.
RenewableUK's Deputy Chief Executive, Maf Smith, said "This is a real cause of celebration in this season of good cheer, not just for the Able Marine Energy Park, but the whole offshore wind sector in the UK. it is testament to a continuing sense of long term confidence in the offshore wind sector, which is at the very heart of our green energy future. This announcement could be a catalyst for further investment in the region. Alongside recent announcements of investments in Grimsby, this shows how offshore wind is bring real opportunities to regions like the Humber."
He went on to say, "Offshore wind and its supply chain in it building could create tens of thousands of green-collar jobs to coastline communities to areas where they are needed most."
Source RenewableUK
-----------------------------------------------------------------------------------------
Scientists call for action to tackle CO2 levels May 11th 2013
Scientists are calling on world leaders to take action on climate change after carbon dioxide levels in the atmosphere broke through a symbolic threshold.
Daily CO2 readings at a US government agency lab on Hawaii have topped 400 parts per million for the first time.
Sir Brian Hoskins, the head of climate change at the UK-based Royal Society, said the figure should "jolt governments into action."
China and the US have made a commitment to co-operate on clean technology.
But BBC environment analyst Roger Harrabin said the EU was backing off the issue and cheap fossil fuels looked attractive to industries.
The laboratory, which sits on the Mauna Loa volcano, feeds its numbers into a continuous record of the concentration of the gas stretching back to 1958.
Sense of urgency-Carbon dioxide is regarded as the most important of the man-made greenhouse gasses blamed for raising the temperature on the planet over the recent decades.
Human sources come principally from the burning of fossil fuels, such as coal, oil and gas.
Ministers in the UK have claimed global leadership in reducing CO2 emissions and urged other nations to follow suit.
But the official Climate Change Committee ( CCC) last month said that Britain's total contribution towards heating the planet had increased, because the UK is importing goods that produce CO2 in other countries.
The last time CO2 was regularly above 400ppm was three to five million years ago - before modern humans existed. Scientists say the climate back then was also considerably warmer than it is today.
Professor Sir Brian Hoskins, director of the Grantham Institute for Climate Change at the Imperial College London, said a greater sense of urgency about tackling climate change was needed.
"Before we started influencing the amount of carbon dioxide in the atmosphere, over the last million years it went between about 180 and 280 parts per million," he said."Now, since the industrial revolution and more in the last 50 years, we've taken that level up by more than 40% to a level of 400 and that has not been seen on this planet for probably four million years."
"But around the world, there are good things happening, it's not all doom and gloom, China is doing a lot, it's latest five year plan makes really good strides and part of the plan for 2011-2015 includes reversing the damage done by 30 years of growth and increasing the use of renewable energy."
Source BBC News science and environment.
------------------------------------------------------------------------------------------
Build more turbines :
poll shows public wants more wind farms June 4th 2012
George Osborn hopes to cut wind turbine subsidies because his MPs fear their constituents oppose them, but new polling proves antipathy is hot air.
Seven people in ten want more wind farms built across the countryside to meet Britain's energy needs - despite a high-profile political backlash which jeopardises their future. The Treasury is considering cuts of up to 25% in subsidies for on-shore wind farms after intense lobbying from countryside campaigners and rural Conservative MP's.
But a ComRes poll for The Independent reveals surprisingly strong public support for wind farms: 68% of the public believe that new wind farms are "an acceptable price to pay" for greener energy in the future.
Younger people are more supportive than older, with almost 80% of those aged between 18 and 44 backing wind farms, compared with 59% of those aged 45 and over.
The findings will encourage the Liberal Democrats, traditionally the greenest of the three main parties, who are determined that the Coalition does not falter in its drive for more renewable energy.
he ComRes survey results run counter to recent developments which have seen conservation charities, such as the National Trust and Campaign to Protect Rural England, come out against the proliferation of wind farms in the countryside.
Rob Norris, a spokesman for RenewableUK, said: This poll is evidence of the true level of support for wind energy in the UK, although there's a vociferous minority who don't support renewable energy, the better-informed majority understand the many benefits. - The Independent on-line
------------------------------------------------------------------------------------------
Wind Power : new poll finds 66% of the UK public in favour April 19th 2012
Two thirds of the UK public are in favour of wind power, according to a new poll. Overall, 66% of Britons were in favour and just 8% against when asked : "to what extent are you in favour of or opposed to the use of wind power in the UK", in the Ipsos Mori poll.
-----------------------------------------------------------------------------------------
Wind farms hit high of more than 12%
of UK electricity demand January 6th 2012
Wind farms reached a high of 12.2% of the UK's electricity demand on December 28th and strong winds in that month allowed the UK's wind fleet to meet and average of 5.3% of demand. RenewableUK, the trade association for the wind, wave and tidal industry, has praised the National Grid's handling of the large volumes of electricity generated by wind farms over the festive season.
Wind power supplied an average of 5.3% of the UK's electricity demand for December and early January, as a result, carbon emissions from the UK's electricity generators were cut by over 750,000 tonnes, equivalent to taking over 300,000 cars off the road.
------------------------------------------------------------------------------------------
Renewables industry defends wind energy, warning Duke of Edinburgh is seriously misinformed November 21st 2011
RenewableUK, the trade association representing the wind, wave and tidal industry, has responded to the remarks made by the Duke of Edinburgh about wind energy.
RenewableUK's Chief Executive, Marie McCaffey MBE, said: "Contrary to the Dukes comments, the irrefutable facts are that wind power is providing a clean, secure supply of electricity to more than three million homes in the UK, displacing six and a half million tonnes of carbon dioxide every year."
"Overall, the long-term cost-effectiveness of wind makes it an economic necessity for our future - we can't go on relying on expensive imports of fossil fuels, which are the real reason why energy bills are going up, we need to explode some of the myths that are being peddled by anti-renewables campaigners.
The trade association highlights the fact that the independent electricity regulator Ofgem says that the cost of support wind adds only about £10 per year to the average electricity bill of £600 - a figure far lower than those misreported in some sections of the media. Ofgem also warned that any failure to invest in renewable energy will result in domestic bills increasing by as much as 52%, if we become over-reliant on increasingly expensive fossil fuels from unstable regimes abroad.
------------------------------------------------------------------------------------------
Met Office says 2010 "among the hottest on record 26th November 2010
This year is heading to be the hottest or second hottest on record, according to the Met Office. It says the past 12 months are the warmest recoded by Nasa and are second in the UK data set HadCRUT3
The Met Office says it is very confident that man-made global warming is forcing up temperatures.
Until now, the hottest year on record has been 1998, when temperatures were pushed up by a strong El Nino - a warming event in the Pacific, this year saw a weaker El Nino, so scientists might have expected this years temperatures to be substantially lower than 1998 - but they are not.
"It is a sign that we've got man-made global warming,"said Doctor Vicky Pope, head of climate science at the Met Office.
The last decade was the hottest on record, and Dr Pope warns it will be turn out to be even hotter by about 0.03C when corrections are made to data from buoys at sea, the buoys take temperature measurements a metre below the surface, where it is slightly cooler than on the surface itself, measurements were previously taken by ships.
Climate sceptics say that until now, warming has plateaued over the last decade, the Met Office agrees that the rate of warming has slowed, but it maintains that it is due to natural variability, not because man-made warming has stopped. - source BBC News Nov 26th 2010
------------------------------------------------------------------------------------------
£60M port infrastructure fund retained 25th Oct 2010 RenewableUK, the country's leading leading renewable energy trade association has welcomed the Governments announcement to retain a £60m fund for port infrastructure upgrades in support of the massive pipeline of offshore wind projects the UK has planned
Launching the National Infrastructure Plan, Prime Minister David Cameron said " We need thousands of offshore turbines in the next decade and beyond...To help secure private sector investment in this technology, we're providing up to £60m to meet the needs of offshore infrastructure at our ports, and to move things forward, the Crown Estate will also work with interested ports and manufacturers to realise the potential of their sites.It's a triple win, it will help secure our energy supplies, protect our planet and the Carbon Trust says it will create 70,000 jobs."
RenewableUK Director of Policy, Dr Gordon Edge said " We are delighted with the Prime Ministers announcement today on the decision to retain the port infrastructure fund, even more so as we are seeing an immediate positive reaction from turbine manufacturers detailing their investment plans. This is a great day for the UK's wind industry, we are set to realise the full potential of offshore wind, both in terms of energy and job creation and are happy that the Government has shown vision and drive over this particular issue."
------------------------------------------------------------------------------------------
Wind delivers close to 10% of UK's electricity Sept 6th 10
Landmark 24 hours for renewables on Sept 6th.....According to data from the National Grid, production of electricity from wind reached a historical record on the 6th Sept this year, with around 10% of all electricity delivered to consumers generated by the UK's wind farms.
At the peak time of 8.30 pm on Monday the 6th, 1860MW was being generated - largely from Scotland - accounting for 4.7% of total generation at the at time. National Grid believes that if embedded wind generation ( generation feeding into low voltage local electricity networks by smaller wind farms) is taken into account, wind generated about 10% of the UK's power during the 24 hours period.
This is not including including the contribution from other renewables, such as hydro, which contributed a further 4%, according to data held by Elexon, the balancing and settlement code company for the UK. The total UK consumption during the 24 hours was 809.5GWh
Commenting on the news Renewable UK Chief Executive Maria McCaffery said "We are expecting to see the contribution of electricity form wind gradually increase over the next decade, to around 30% of the UK's total consumption. This news confirms that, not only are the wind farms that we have built so far starting to deliver, but that the UK wind farm electricity yields are the best in Europe, and comparable with established technologies such as hydro."
------------------------------------------------------------------------------------------
UK National wind week - June 12th -20th 2010
A series of events and wind farm open days took place across the UK to celebrate wind power. This is an annual event and each years gets bigger and better.
------------------------------------------------------------------------------------------
Crown Estate approves NW wind farm extensions
May 12th 2010
Expansions to offshore wind farms in Liverpool Bay and off Cumbrian coasts have been given the go ahead by The Crown Estate
Offshore wind developer Dong Wind UK plans to extend the area of the Burbo Bank site in Liverpool Bay, a bay of the Irish Sea between north east Wales, Cheshire and Lancashire.
Another three wind farm developments, off the coast of Suffolk and Kent, were also given the green light today. The approval of all five extensions means enough power will be provided for an extra 1.4 million homes.
The selected developers will finalise agreements with the Crown Estate over the coming weeks, after this , developers will commence the statutory consenting process.
The Crown Estate said each area extension will require a full, new planning application, including and Environmental Impact Assessment (EIA) and full consultation. The Crown Estate added it will only grant a lease allowing construction to start when statutory consents have been obtained from appropriate decision making authorities.
------------------------------------------------------------------------------------------
No malpractice by Climate Unit April 14th 2010
There was no scientific malpractice at the University of Anglia's Climate Research Unit, which was at the centre of the "climategate" affair
This according to an independent panel chaired by Lord Oxburgh, which was convened top examine the research published by the unit
Critics had said that earlier e-mail exchanges revealed an attempt by the researchers involved to manipulate data, bit a recent House of Commons Science and Technology Committee report into the e-mails concluded that the scientists involved had no intention to deceive. Lord Oxburgh said that he hoped "resounding affirmations" of the unit's scientific practice would put those suspicions to bed.
UEA's vice chancellor, Edward Acton, said he welcomed the report and added "It is especially important that, despite a deluge of allegations and smears against the CRU, this independent group of utterly reputable scientists have concluded that there was no evidence of malpractice."
Source BBC April 14th 2010
------------------------------------------------------------------------------------------
£80m Siemens Plant March 30th 2010
Siemens is to build an £80m wind turbine factory in the UK, creating hundreds of jobs. The German industrial giant, which had already considered Germany or Denmark, said it had chosen the UK after the Budget announcement of a £60 million grant to develop port facilities for offshore turbine manufacturers. The companies UK Chief Executive said " This gives us confidence that the appropriate UK port infrastructure can be made available to support our production plans."
Siemens is looking at locations on the East coast and in the North-east for the plant to make turbines for offshore farms. It is expected to create 700 direct jobs with 1500 more in the supply chain.
Siemens president, Peter Loscher, who has talked to 10 Downing Street about the scheme, said : "We are pushing ahead with our strategy of investments in attractive growth markets for eco-friendly technology." The company will compete with the US industrial giant General electric, which last week announced the building of a UK wind turbine manufacturing plant, creating 2000 jobs.
Source Daily Express March 30th 2010
-------------------------------------------------------------------------------------------
Engineering Firms 240 new Jobs January 27th 2010
A firm making towers for win turbines is creating 240 jobs and investing £38m in its base in Monmouthshire, Wales. Mabey Bridge, which already employs 400 at Chepstow and also in Gloucester, said the project would create hundreds of skilled and technical posts and it said the investment would make it the biggest UK manufacturer of wind turbine onshore and offshore towers.
Peter Lloyd, managing director of Mabey Bridge said: " This is a significant announcement and the project will provide a massive boost for the local economy, creating hundreds of jobs."
Welsh Assembly Government, Deputy First Minister Ieuan Wyn Jones said: " Green jobs like these will be central to the future of the Welsh economy."
Source BBC News Jan 29th 2010
------------------------------------------------------------------------------------------
New Wind farm Zones are announced January 8th 2010
Successful bids for nine offshore wind farm zone licences within UK waters have been announced.
A consortium including Npower and Noways Statkraft won the licence for the biggest zone, in Dogger Bank, which could produce nine gigawatts of energy.
Turbines in the nine zones could generate up to 32 gigawatts of power, a quarter of the UK's electricity needs. The winners have signed exclusive agreements with the Crown Estate, which owns the UK seabed. Proposals For the wind farms will now go planning and consent stages.
This is the third time that companies have had a chance to bid for the zones
Prime Minister Gordon Brown said the "government's policies to support offshore wind energy had put the UK ahead of other countries."
He added "This new round of licences provides a substantial new platform for investing in UK industrial capacity and the offshore wind industry is at the heart of the UK's economy's shift to low carbon and could be worth £75bn and support up to 70,000 jobs by 2020."
------------------------------------------------------------------------------------------
UK could face blackouts by 2016 Sept 12th 2009
The Governments new energy advisor says that the UK could face blackouts by 2016, because green energy is not coming on line fast enough.
Ministers have previously said that the UK is not heading for an energy gap, but David Mackay, who takes up his new post at the Department for Energy on Oct 1st, says the public keep objecting to energy projects. This he says, is creating a huge problem, which could turn out the lights.
-----------------------------------------------------------------------------------------
Largest wind farm to be expanded May 21st 09
Europe's largest onshore wind farm is to be expanded further, Scottish First Minister Alex Salmond has said. Mr Salmond was speaking as he officially switched on the 140 turbine Whitelee wind farm on Eaglesham Moor in East Renfrewshire near Glasgow. He said that Scottishpower Renewables had been given permission to add a further 36 turbines to the site.
Each turbine at Whitelee, which started producing electricity in January 2008, stands at 110m at the tip height and the addition of the 36 turbines will give the wind farm an installed capacity of 452MW and will provide enough energy to meet the annual electricity demands of 250,000 homes.
Mr Salmond said " Whitelee in its current form is already flying the flag for onshore wind power in Europe."
Kieth Anderson of Scottishpower Renewables said " This is now the first over 300MW (onshore) wind farm in the UK and we believe that others will follow"
A £2m visitor centre is planned at Whitelee and the wind farm is due to be fully opened to the public, walkers,cyclists and ramblers in the Summer
-------------------------------------------------------------------------------
Wind industry gives thumbs-up to the budget April 23rd 09
UK renewables industry leaders today welcomed Alister Darling's Budget announcement of a package of measures to build a low carbon economy and further decarbonise electricity generation. The proposals include a potential £525m of new money through a review of the support mechanism for offshore wind. The Chancellor also announced a new deal with the European Investment Bank to provide a package of up to £4 billion for investment infrastructure projects, as well as as one year across the board doubling of capital allowances from 20% to 40%
Adam Bruce, BWEA Chairman, said " This package of measures deserves a welcome from our industry and is in line with proposals that we have been working through with the government. It addresses the short term economic hurdles we faced due to the fall of the £ against the Euro, and the post - Lehman collapse in project finance.
It also restates the Governments long term commitment to the renewable energy sector, and should enable us to unlock up to £10 Billion of private sector investment in wind and marine energy projects over the coming years".
------------------------------------------------------------------------------------------
New nuclear plants will cost every family £3,000 April 16th 09
Every family faces a bill of at least £3,000 to pay to clean up the waste produced by a new generation of new nuclear power stations, it has been claimed.
As ministers on April 15th unveiled details of 11 locations of where plants could be built, campaigners warned that the cost of removing dangerous waste will be borne by the tax payer.
Nine of the proposed plants are near existing nuclear power stations, including Dungeness in Kent, while two further plants could be constructed near to Sellafield in Cumbria, the UK's largest nuclear facility.
Ministers hope the first of the replacement plants will open as early as 2018.
They insist any cost will be paid for by the private sector, however, Neil Crumpton of Friends of the Earth, said that taxpayers have already been stuck with a £75 bn bill- or £3,000 per family - to dispose of the current generation of nuclear waste. He added " The figure has crept up dramatically over the years. It is quite reasonable to expect it will double with the new waste."
Simon Hughes, Liberal Democrat spokesman for energy and climate change, said "We know that never in British history has the nuclear industry not needed a bailout from the taxpayer - Source Daily Mail April 16th 2009
------------------------------------------------------------------------------------------
RSPB calls for more UK wind farms March 24th 2009
There should be a significant increase in the number of wind farms built onshore in the UK the RSPB has said
It called for an end to the "needless delays" that beset wind farm projects, after a study said that more turbines could be built without harming wildlife.
It would be "disastrous" if the vast potential of wind power in the UK was wasted, the charity added
Ministers said the planning process was being "streamlined" to encourage a mixture of on and offshore wind farms. Source BBC Ceefax 24//3/09
------------------------------------------------------------------------------------------
Global warming "underestimated" Feb 15th 2009
The severity of global warming over the next century will be much worse than previously believed, a leading climate scientist has warned.
Professor Chris Field, an author of the 2007 landmark report on climate change said "future temperatures will be beyond anything predicted."
He went on to say "the Intergovernmental Panel on Climate Change ( IPCC) had underestimated the rate of change and that warming is likely to cause more environmental damage than forecast."
------------------------------------------------------------------------------------------
Miliband opts for 80% emission targets and feed in tariffs Oct 16th 2008
The new Secretary of State for the Department for Energy and Climate Change, Ed Miliband, has now confirmed that the UK will now aim for an 80% carbon emission reduction by 2050. In his first speech to Parliament in his new position, Mr Miliband announced that amendments will be added to the Energy Bill to introduce a feed -in -tariff to support small scale renewable electricity generation, he also indicated that his government would bring in a similar measure to promote renewable heat
------------------------------------------------------------------------------------------
Department of Energy and Climate Change created Oct 6th 2008
The UK government has announced the creation of a Department of Energy and Climate Change. The move, which for the first time has forged an arm of government explicitly uniting climate and energy, has been welcomed by the renewables industry and the environmental movement.
The new department, which will be headed by Ed Miliband will assume responsibility for areas which had been previously covered by DEFRA and DBERR.
Adam Bruce, chairperson for BWEA said, " the industry believes that forming a department that tackles climate change and energy supply at the same time, is the right way forward if the UK is to deliver on the 2020 renewable energy targets." He added " this is an example of joined up thinking we have been calling for, which should make a difference in reducing the UK's carbon emissions and ensuring a sustainable and affordable energy future."
GREENPEACE executive director, John Sauven said " for the last ten years this government has dithered on climate change, offering us inspiring rhetoric but little in the way of real action." However he added " bringing energy and climate at last reflects the urgency of the threat we face from climate change."
------------------------------------------------------------------------------------------
China puts UK out of top five August 2008
China displaced the UK in the five most attractive countries for investment in renewable energy for the first time in the indices' five year history.
This is according to the Earnst and Young renewable energy country attractiveness indices, which track and score global investment in renewable energy.
------------------------------------------------------------------------------------------
Friends of The Earth Cymru (FOE) publish " Wind Power : 20 Myths blown away" May 2008
Friends of The Earth Cymru ( FOE) published the long awaited document "Wind Power 20 Myths Blown Away" to address many of the claims used by those opposed to wind power. The document says " wind energy is one of the cleanest, safes and cost effective forms of energy available" It it goes on to say " Friends of the Earth Cymru believes that, in view of the increasing urgency of tackling climate change, decisions on potential wind turbines in Wales should be made on the basis of facts and informed debate, not myths and misinformation." The full report can be seen at www.foecymru.co.uk
---------------------------------------------------------------
Denmark's largest offshore wind farm approved Aug 26th 08 Denmark's largest offshore wind farm will be sited in the Kattegat Straight. Parliament approved the construction of the wind farm on Tuesday on August 26th. The wind farm will be capable of producing 400 MW of energy, meeting the demands each year of up to 400,000 homes, according to the Climate and Energy Minister. There will be between 100 and 175 turbines placed in the Jutland waters. Jakob Lau Holst, the acting Director of the Danish Wind Industry Association ( DWIA), said " the new construction will help Denmark in its bid to reach the European Commission's goal of generating 30 % of energy from wind by 2020.
According to the latest figures from the Wind Industry Association, Denmark has 5267 turbines, of which 70 % are located in Jutland. In 2006, offshore wind farms produced 22 % of Danish wind energy
------------------------------------------------------------------------------------------
Government publishes the renewable energy strategy consultation paper
The UK government has this week published its paper on the Renewable Energy Strategy, designed for the UK to meet the renewables energy target of 15% by 2020. A large part of this will come from wind power, with up to 4000 more turbines on land and 7000 offshore.
------------------------------------------------------------------------------------------
Advertising Standards Authority ( ASA) rules against another anti wind farm group June 14th 2008
The Advertising Standards Authority ( ASA) the independent body that polices the rules laid down in the advertising codes, has ruled against yet another anti wind farm group. Acciona made the formal complaint against the "Save Trannon Moor Action Group" (STAG) as it claimed that materials used by the group in opposing the Trefeglwys Llawr wind farm application were misleading. All but two of the six complaints were upheld by the authority. In conclusion the ASA told STAG to remove claims "inefficient - produces only 28% of capacity on average". "Will devastate wildlife - birds, bats and other mammal will all suffer", "Will threaten the health of local residents - noise, vibration and blade flicker" and "Will waste money - subsidies will be charged to every one's electricity bills..." The ASA advised them to consult the CAP Copy Advice team before advertising in future. The full adjudication can be found on the ASA Website www.asa.org.uk May 28th 2008.
------------------------------------------------------------------------------------------
UK wind weekend June 14th -15th 2008
Over the weekend 20 wind farms are set to open to the public, the two days look to be the biggest so far with some 20,000 people expected to attend wind farms and events across the UK. To see how you can be a part of the weekend, go to www.embrace.com/wffinder and click on the sites on the map. This year the weekend coincides with the European Wind Day, where around 100,000 visitors are expected at events 18 European countries to celebrate the vital contribution wind power makes in address man-made climate change.
------------------------------------------------------------------------------------------
Britain moving to top place in offshore league June 13th 2008
The UK is set to become the worlds largest supplier of offshore wind electricity. At present in terms of installed capacity, Denmark leads the way with 409MW compared with the UK at 404MW. However, by the end of Summer with further construction the UK will move ahead and will become the world number one in offshore wind !
-----------------------------------------------------------------------------------------------------------------------------
Wind Energy to overtake nuclear by 2013 - June 10th 2008
Leaders of the UK offshore wind industry met last week for their annual conference in Westminster. Figures released by BWEA, the UK wind industry trade association revealed that installed wind energy generating capacity will have surpassed installed nuclear within the next five years.
BWEA Chief Executive Maria McCaffery said " wind power is no longer a minority pursuit, with nearly half a gigawatt already installed and a further 8GW of schemes in the pipeline we are now mainstream energy supplier."
------------------------------------------------------------------------------------------
Slovenia nuclear alert after leak - June 4th 2008
A leak of water has prompted Slovenia to shut down the reactor at its only nuclear power plant. The European Commission has issued an EU-wide alert under its Ecurie early warning system for nuclear emergencies, the AFP news agency reports
A safe shutdown is in progress at the Krsko nuclear plant the report adds.
-------------------------------------------------------------------------------
Blackouts in England as both Nuclear and coal plants fail - May 28th 08
Hundreds of thousands of homes and businesses across London, Cheshire, Merseyside and East Anglia, yesterday lost power as blackouts caused by Sizewell B nuclear plant in Suffolk and Longannet coal fired station in Scotland going off line within minutes of each other. News was released today that the cost of cleaning up the UK's ageing nuclear facilities including some dangerous sites looks set to rise above £73 BN. A senior official at the Nuclear Decommissioning Authority said the bill would rise by billions of pounds. Nineteen sites across the country, some dating back to the 1950's are due to be decommissioned over the coming decades.
------------------------------------------------------------------------------------------
Feds want wind power to generate 20% of US electricity by 2030
Can the US really produce 20% of its electricity through wind farms ? The Department of Energy ( DOE) thinks so and on May 14th issued what it called a first-of-its-kind report that examines the technical feasibility of harnessing wind power to provide up to 20% of the nations electricity by the year 2030. Further information can be found at www.eere.energy.gov/
-------------------------------------------------------------------------------
Say No to Heathrow expansion
Over 3000 climate campaigners took part in the "make a noise" event saying a clear NO to the plans for the Heathrow expansion. The day started at 12 pm at Hatton Cross tube station, ending in Sipson village, which will be destroyed if the third runway goes ahead. Further information can be found at www.make-a-noise.org
-------------------------------------------------------------------------------
Climate Camp 2008
Climate camp is an international event this year. The UK camp is (August 4-11th) is to be sited at Kingsnorth, Kent to highlight its impact on climate change. For further information about the camp and its aims go to www.climatecamp.org.uk
------------------------------------------------------------------------------
June 15th 2008 European wind day
The European Wind Energy Association ( EWEA) is organising a second pan European day to highlight the benefits of wind energy. 18 countries have already confirmed their participation in this years wind day and will organise hundreds of activities across European regions and cities. These will include wind farm inaugurations and open days, concerts, conferences, information days with schools, debates, races, contests and much more ! Further information about the day can be found at www.ewea.org
--------------------------------------------------------------- Chernobyl 22 years on.
April 26th 2008, marks the 22nd anniversary of the nuclear accident at Chernobyl a series of reports about to be published it is thought that up to 500,000 people have died out of the 2 million who were officially classed as victims of the accident, some 7 million people were affected by the disaster. The new estimates have been collated by researchers commissioned by European parliamentary groups, GREENPEACE International and medical foundations in Britain, Germany, Ukraine, Scandinavia and elsewhere. They have taken into account more than 50 published scientific published studies. Chernobyl today is still a ghost town.
-----------------------------------------------------------------------------------------------------------------------------
Forecast for a big sea level rise - April 15th 2008
Sea levels could rise by up-to one and a half meters by the end of this century, according to a new scientific analysis.
This is substantially more than the International Panel on Climate Change ( IPCC) forecast in last years landmark assessment of climate change.
Sea level rises of this magnitude would have major impacts on low lying countries such as Bangladesh.
The findings were presented at a major science conference in Vienna, by a UK/ Finnish team which has built a computer model linking temperatures to sea levels over the last 2000 years.
Further information about the report can be found at the Proudman Oceanographic Laboratory Website www.pol.ac.uk
------------------------------------------------------------------------------
Stern warns that climate change is far worse than the 2006 estimate
Lord Stern the economist whose report on climate change helped galvanise world leaders behind the green energy movement when it was published 18 months ago, has admitted is far worse than the assumptions that formed the basis for his ground breaking report.
"We badly underestimated the degree and the risks of climate change" said Lord Stern in a speech in London on April 16th. "All the links in the chain are on average worse than we thought a couple of years ago".